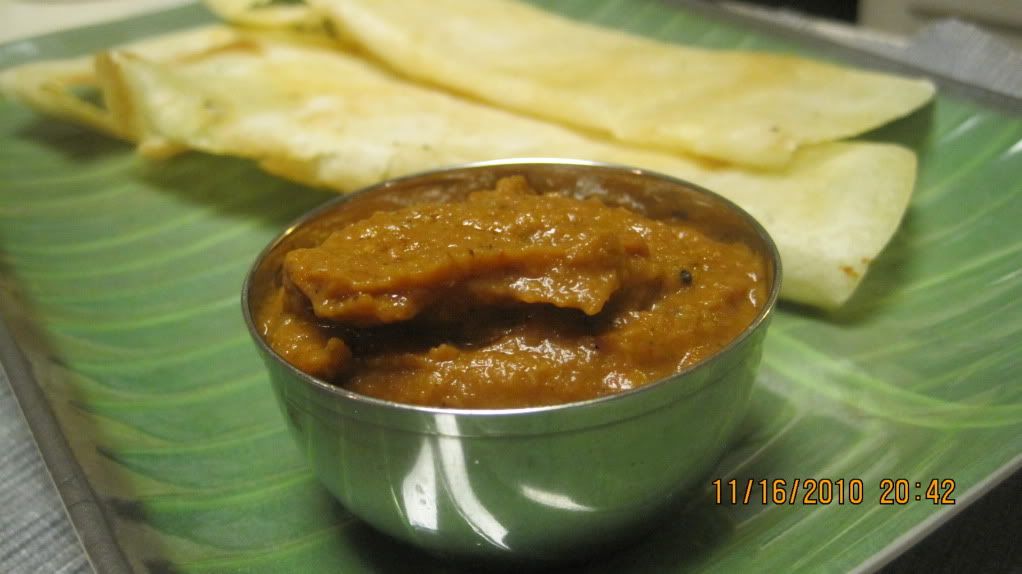 My family loves chutneys and they seem to expect different varieties throughout the month for idlys and dosas. This is one of my favorite and is kind of different because of the ginger.
Ingredients
Big Onion - 2
Plum Tomato - 3 or 4
Ginger - 2 inch piece
Garlic - 3 cloves
Green Chilli - 2
Red Chiili Powder - 1 teaspoon
Shredded Coconut - 1 tablespoon
Tamarind - small piece (Size of a small gooseberry)
Salt to taste
Mustard seeds and asafoetida for seasoning.
Method
In a pan add 2 teaspoons of oil, then add the chopped onions and tomatoes. Fry until Onions and tomatoes are completely cooked. Then add chopped ginger, garlic and fry for a few more minutes. Then add chopped green chilli and red chilli powder. Then add the coconut, tamarind and salt and fry for 5 to 10 more minutes. Let this mixture cool for 10 minutes and grind to a fine paste.
In a small pan add a little oil, when hot add mustard seeds and asafoetida fry until mustard seeds are completely done and then add this to the grinder chutney.
Enjoy this with Dosa or Idly!